An auto accident can be a terrifying experience, leaving you confused and overwhelmed. Determining the best path forward, especially if you've suffered physical or property damage, is often the hardest step afterward. Nevertheless, a reliable car accident lawyer can help you navigate the complexities of the claims process and fight for compensation.
Sherman Oaks, CA, residents who suffer vehicular accidents can turn to Davana Law Firm. Our legal experts are experienced in a variety of personal injury practice areas, including automobile and motor accidents. We will provide you with an accident lawyer who can build the strongest case possible and ensure you get the financial compensation you deserve. Contact us today for a free case consultation!
Before you enlist a law firm's services, you should carry out a few steps of your own:
1. Do Your Research
Start your search for a good lawyer by asking friends, family, and colleagues for references. Alternatively, you can work with a referral service to locate a reputable law firm.
A word of caution: some lawyers—dubbed "ambulance chasers"—may contact and request to represent you following an accident. It is illegal for attorneys to solicit business this way, and you should avoid such individuals at all costs.
What to Look for When Hiring a Car Accident Lawyer
Where the lawyer attended law school

How long the lawyer has handled these types of cases

Whether the lawyer specializes in representing claimants against insurance companies
Once you've narrowed down the list of possible candidates, interview each to determine which one best suits your needs.
Questions to Ask Your Car Accident Lawyer
Have you handled a case like mine previously? If so, what was the outcome?

How long do you expect it will take to resolve my case?

How often can I expect updates from you regarding my case? Can I contact you directly if I have questions?

Will you file a lawsuit on my behalf if I am not satisfied with the insurance company's offer?

What are the fees and terms of your legal services agreement?

Can you provide the names and contact information of previous clients as references?
2. Understand Your Responsibilities
As the client, you play an active role in supporting the success of your case. Your health and well-being are top priorities, so seek medical care for your injuries and remain in compliance with your doctor's recommendations. Moreover, submit medical documentation to your health insurance company and keep your lawyer up-to-date on your care and treatments.
Be responsive and available; attend all appointments with your lawyer and answer any letters or phone calls you receive from your attorney's office.
3. Gather the Paperwork Needed for Your Case
Your lawyer will need a significant amount of paperwork to represent you in your claim. These materials will be critical in proving accident fault in your case. So, before your initial visit with your attorney, gather the necessary documents:

Medical records and hospital bills

Accident/collision report, if the police were involved

Pictures of all injuries and property damage

Details about the incident, including date, time, location, and weather/road conditions

Breakdown of lost wages due to the accident

Your automobile insurance policy
4. Learn How Contingency Fees Work
A contingency fee means that your car wreck lawyer only gets paid their attorney fees if they can successfully resolve your case. In general, negotiable contingency fees are between 33.3-40% of a personal injury award, depending on whether the case goes to trial or not.
Also consider pre-trial costs: expert witnesses, court reporters, preparation, and filing of legal pleadings. These charges are typically advanced by your lawyer and reimbursed out of any amount recovered upon resolving your case.
5. Remember, Time Is Critical
Finally, keep the strict time limits around filing a lawsuit in mind, known as "statutes of limitations." The California statute of limitations for personal injury cases is two years. Act quickly to file your claim; if you delay, you could be barred from seeking compensation for your injuries.
Davana Law: Experienced Car Accident Lawyers in Sherman Oaks, CA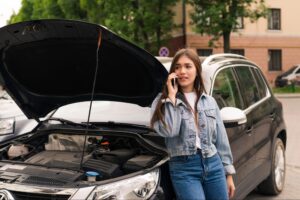 An unexpected automobile accident can disrupt your life enormously. Hiring a qualified car accident lawyer from Davana Law can ensure that you receive the compensation you need to recover and resume your normal life. Our legal staff has successfully tried numerous personal injury and automobile accident claims. We have provided hundreds of individuals across Sherman Oaks, CA, with peace of mind and compensation. Contact us at (818) 501-1055 for more information about our services and schedule a free consultation with one of our expert attorneys today.