While we'd like to avoid them as much as possible, car crashes occur every day in Los Angeles, as the news and California Highway Patrol indicate. If you drive around our city, it benefits you to know the kinds of financial damages you can seek from an accident claim, including personal property, car rental, out-of-pocket expenses, and more. Additionally, keep Davana Law Firm in mind for experienced accident attorney services.
Specializing in personal injury law, Davana serves the greater Los Angeles region through dedicated legal expertise. With more than 8 legal professionals on staff, we can provide personal attention to each of our clients. Our team offers legal assistance in more than 3 languages. Plus, we don't charge any fees until we win your case—and we've won over 500. Call us today at (818) 501-1055 or fill out our online form for a free case evaluation!
Below, we discuss the kinds of damages you can seek during a car accident claim as well as the details you'll need to file a claim:
The Information You Will Need
First, note that insurance companies pay out accident claims. Thus, you and your attorney will speak with (and perhaps argue in court against) company representatives rather than the other driver(s) in your accident. Dealing with insurance companies requires a lot of paperwork and documentation.
That said, begin this process by gathering the following details at the scene of the accident:
The name and contact information of the other driver(s)

The name and contact information of the other driver(s)' insurance company

The name and contact information of any accident witnesses

The name and contact information of any law enforcement officer(s) on the scene
Moreover, you should try to get pictures of the following elements:
The locations of all vehicles involved

The physical damage to all vehicles involved

The license plate of each vehicle involved
Unless you suffered an injury during a crash, gather as much of this information as possible. Even if another driver seems clearly at fault, these details are crucial to winning damages in a vehicular accident case.
The Types of Damages You Can Seek
Following the accident, hire a lawyer as soon as possible (again, even if the accident was not your fault). While other drivers' insurance companies will try to settle with you for as little money as possible, car accident attorneys know how much compensation you're entitled to.
Your attorney will examine your case's details and determine which damages to pursue (as well as their amounts). Damage types include:
Vehicle damage

– As you may expect, you have a right to compensation for your damaged vehicle. However, determining the amount of compensation involves legal nuances that require a professional to navigate.

Personal property damage

– You can also seek damages to repair or replace any non-vehicular items (laptop, phone, bike, etc.) damaged during the crash.

Car rental

– If you rent a car while a shop repairs your vehicle, you can seek repayment for the rental costs.

Out-of-pocket expenses

– Additionally, you can receive compensation for any additional charges (such as Uber costs to get home from the crash scene) that arise in the accident's aftermath.
Finally, you may seek damages for injuries sustained, medical expenses, and suffering. However, these factors add layers of complexity to your case.
Damages for Bodily Injuries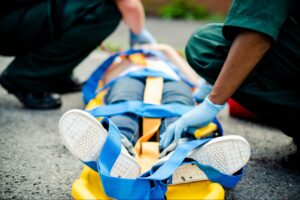 If you were injured during a car crash, inform your lawyer so they can seek proper damages. The total for medical expenses tends to skyrocket, and you deserve support for it. Nevertheless, expect your claim and settlement process to involve much more detail.
Bodily injury and medical expense damages may include payment for an emergency room visit, specialist care, physical therapy, and even lost wages due to time off work. Your attorney may also recommend that you seek thorough physical examinations to ensure that no further injuries appear after you settle the case. Moreover, you may seek recompense for pain and suffering due to the accident.
Document all such medical information carefully. Keep receipts, hospital bills, and therapeutic costs on hand and provide copies to your attorney. They can fight for proper compensation, but they need to follow up on these details first.
Contact LA's Best Accident Attorney Team and Earn Your Damages!
While safe driving practices and careful attention to the road will help you to avoid accidents, foreknowledge about claims and damages provides peace of mind should an incident occur. Turn to an LA accident attorney at Davana Law Firm for guidance and support in seeking compensation. Our legal team promises to charge no fees until we deliver a successful outcome to your case. For more information, call us today at (818) 501-1055 or visit our website for a free case consultation.