Becoming a driver is a major milestone in any teen's life, yet it entails that they understand the dangers and repercussions of car accidents. Specifically, your teen should understand their licensing rights and responsibilities, shared liability, and plan of action should an accident occur. Following a car crash, no matter who appears at fault, turn to an experienced auto accident lawyer.
Davana Law Firm offers legal assistance to residents of Reseda, CA. We are committed to a successful outcome in every case we argue, so we guarantee to charge no fees until we win. Our team comprises 8+ legal professionals and speaks 3+ languages. Our multicultural firm believes that everyone should have access to professional help in legal situations. Contact us at (818) 501-1055 for a free case evaluation.
Licensing Rights & Responsibilities
To help your teen avoid causing a car accident, ensure they understand the terms of their driver's license. The California Department of Motor Vehicles (DMV) takes action against culprits of collisions and violations, including failure to appear in court for a traffic ticket and driving under the influence (DUI). These violations can result in a suspension of license.
Furthermore, teens must comprehend the restrictions that apply to their licenses. For instance, during the first 12 months after licensing, teen drivers cannot:
Drive between 11 p.m. and 5 a.m.
Drive with passengers under the age of 20 in the vehicle (unless accompanied by an appropriately licensed driver).
Speak to your teen about the rights and responsibilities that a driver's license entails. Also, consider establishing your own rules to safeguard these legal stipulations. For instance, set a curfew and create a plan to help your teen adhere to it. You should also set ground rules regarding substance and phone use while driving.
Shared Liability
You, or whoever signs your teen's license application, are jointly liable for negligent damages that your teen causes while operating a vehicle. These damages include harm caused to people or property. Keep in mind that this liability applies from the time of application until your teen turns 18.
Additionally, as a liable party in your teen's driving record, you must decide whether your child can operate a vehicle safely—even if they passed the licensing process. Spend at least 50 hours as a passenger while your teen drives and observe their competence. Then, discuss the importance of cautious driving and enforce consequences for reckless behavior.
What to do if Your Teen is Involved in a Car Accident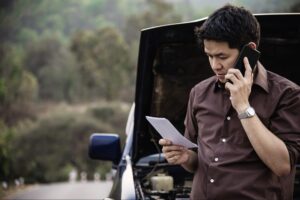 Finally, educate your teen about how to report a car accident in case they are involved in one. They should know to contact the police and gather information from the other party or parties.
Should an accident occur, contact a lawyer to assist with the claims filing process. An experienced attorney can defend you or your teen, no matter which driver is held at fault for the incident. If the other party caused the accident, your lawyer can help negotiate a fair settlement for damages and injuries. In California, injured parties may seek compensation for the following:
Property Damage
Medical Expenses
Pain, Suffering, & Inconvenience
Disfigurement
Physical Impairment
Out-of-Pocket Expenses
Contact an Experienced Auto Accident Lawyer in Reseda, CA
Look no further than Davana Law Firm for an auto accident lawyer in Reseda, CA. We have helped 500+ clients win their personal injury cases. Moreover, we listen to our clients to understand all the details of their situation and build the strongest case possible. Contact us today at (818) 501-1055 for your free case evaluation.