After losing a loved one in an accident or negligent action, you may struggle to decide who you can turn to. However, you and your family deserve compensation for your loss to ensure your financial security. An expert wrongful death attorney can help you make a strong case and give you the best chance of winning.
Davana Law Firm has assisted clients across Sherman Oaks, CA. We are a team of attorneys who specialize in wrongful death, premises liability, motor accidents, and other personal injury cases. Our firm has won thousands of dollars for our clients in a variety of cases. We have also established a reputation for trust, sympathy, and determination over the years.
Below, we outline what you should consider before you hire a wrongful death attorney:
Considerations Before Picking A Wrongful Death Attorney
1) Their Experience in Your Type of Case
Every case is different, and every attorney is trained and experienced in distinct case types. For example, the circumstances and aspects of medical malpractice will naturally diverge from those of automobile accidents.
While both cases may be considered "wrongful death," their claims processes may differ vastly due to their different causes. Your attorney must know fully how to put together a strong defense for your specific case.
2) The Resources They Have
Your attorney should also have the resources available to them so that they can put their best effort into your case. Many cases are settled sooner than later, sometimes within a few weeks. Other times, several months, and in the most controversial cases, years at a time.
Learn if your attorney will have the resources to work with to continuously support you throughout your case so that you can rest assured that it will reach the best possible settlement.
3) How Much Their Services Costs You
Many people feel anxious when looking for lawyers because they are known to cost a great deal to hire to work their case. However, it's important to know that most wrongful death attorneys are paid their costs based on a contingency fee.
This fee is covered by a percentage of the compensation you receive due to their work and input into your case. Discuss with your given lawyer their fee structure and when to expect they should be collected.
Davana Law's clients pay no upfront fees, motivating our legal team to do their best to win your case and ensure you receive the highest possible compensation before anything else.
4) How Trustworthy They Are
At the end of the day, what matters most is how much you can trust your attorney. Find one that inspires confidence when having them at your side in mediation or court.
You'll feel comfortable and assured throughout the legal process, knowing that your expert wrongful death attorney is there to construct the strongest case possible for you and to be your first advocate.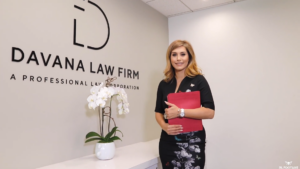 Davana Law Firm: Experienced Wrongful Death Attorney in Sherman Oaks, CA
Experiencing the loss of a loved one through no fault of their own is always tragic. Nothing could ever replace them, but receiving the compensation you deserve from those responsible can help you and your family recover. Davana Law Firm has a dedicated wrongful death attorney who will work tirelessly to ensure your case is built to succeed. We have won over 500 cases in Sherman Oaks, CA, and the surrounding region, winning hundreds of thousands in compensation and damages for our clients. We also work on a contingency fee, meaning we will not charge a cent until we win your case. In addition to covering wrongful death cases, we also specialize in personal injury, automobile accidents, brain damage cases, and much more.
Contact us today at (818) 501-1055 to find out how we can assist in your wrongful death or personal injury case.